Organic Hoodies
£1,150.00 – £12,100.00 Excl VAT
Product Description
Wholesale organic cotton Hoodies with a front pouch are printed with your own designs or branding. Each premium organic cotton Hoodie is printed in the UK using eco water-based discharge inks that don't crack or fade. We have sourced these sustainable organic cotton Hoodies by Stanley & Stella to create the perfect high profile promotional item that will enhance your brands' marketing campaign & leave a long-lasting impression on your clients.
Note
: The prices given are for quantities of the same printed design only. 'If you want to have different designs printed, you'll need to treat this as a separate order'.
Price Breaks:
We have three price breaks (x50/x100/x250/x500. If you needed to order an odd amount eg: (300 or 450) please contact us.
Note
: When ordering larger quantities, you will need to choose to pay by BACS on the checkout page due to capped spending limits on card transactions, we will raise an invoice for you once you have processed your order online. For bespoke Hoodie designs or quotes on larger quantities of 500 upwards please contact us:
sales@bespokelogos.co.uk
BRUSHED SOFT FEEL SUSTAINABLE FABRIC
85% ORGANIC RING-SPUN COMBED COTTON, 15% RECYCLED POLYESTER
Features:
Set-in sleeve
Double layered hood in self-fabric
Round drawcords in matching body colour with metal tipping
Metal eyelets
Inside herringbone back neck tape
Self-fabric half moon at back neck
Single needle topstitch at neckline and along with hood opening
1x1 rib at sleeve hem and bottom hem
Armholes, sleeve hem and bottom hem with twin needle topstitch
Kangaroo pocket at front

Hoodie Size Chart
Use this Stanley & Stella Hoodie size guide to find out which sizes to order, measurements are shown in centimetres: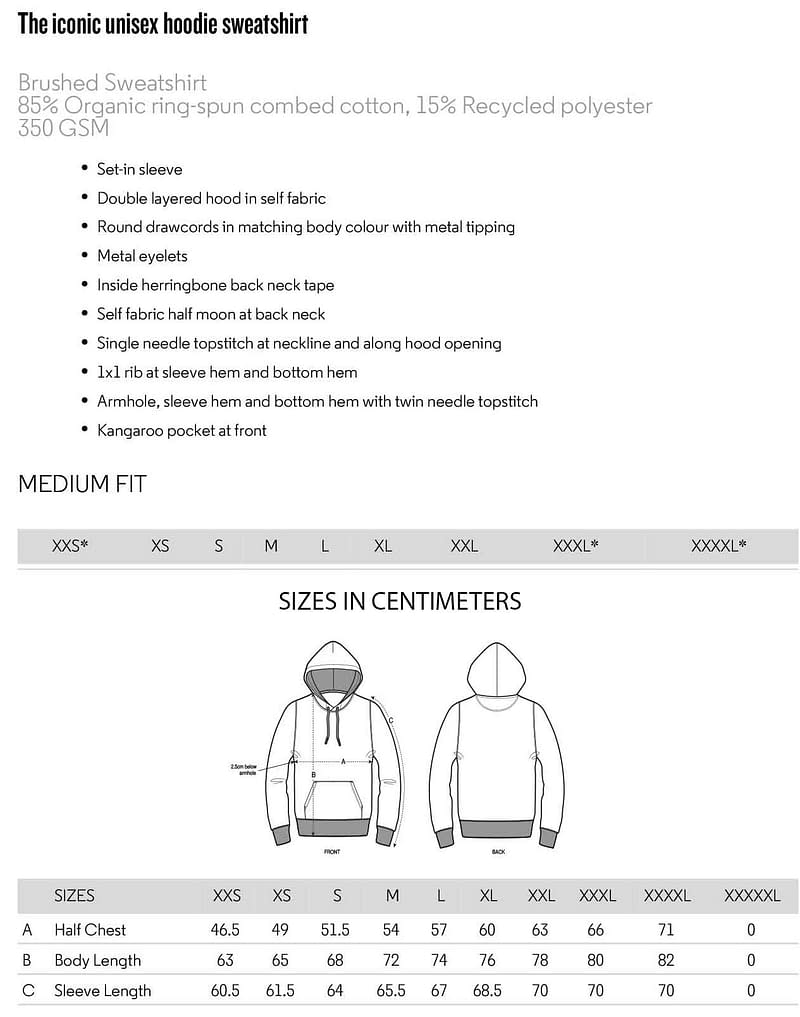 Why Organic
Watch the video below to find out about the organic cotton used to make our Stanley & Stella T-shirts:
Delivery Info
We offer a standard flat rate Postage & Packaging fee on all bespoke clothing. T-shirts, Hoodies, Sweatshirts are dispatched in the UK by Royal Mail or UPS courier for International orders.
UK DELIVERY FEE: £25 plus VAT charged as a flat rate for all clothing orders.
WORLDWIDE DELIVERY FEE: £70 flat rate (NO VAT).
Bespoke clothing is printed-on-demand only after you have placed an order online or by BACS transfer. Delivery times may vary depending on our work-load & the time of year as indicated below.
Note: If you need us to meet a tight deadline please email us prior to placing your order to make sure we can accommodate.
Standard lead times for UK deliveries are as follows:
Wholesale custom printed Stanley & Stella organic cotton clothing & Bella & Canvas premium eco-cotton clothing takes between 15 – 25 days (depending on the size of your order, time of year and if we have to order in your colour garments). *Delivered by Royal Mail
EU & International delivery
Delivery times vary from country to country, as a guide typically you can add an extra 3 – 5 working days to the delivery days stated above to calculate the shipping time frame. You will receive an email with a Tracking Number once your order has been dispatched.
Cautionary NOTE – Shipments outside of the UK may experience some delays due to COVID restrictions and customs clearance, which are beyond our control.