Organic Beanie Hats
£400.00 – £9,000.00 Excl VAT
Product Description
Bespoke wholesale organic Beanie Hats custom made with your own embroidered designs and are available in 4 colourways. Theses eco-friendly fine ribbed beanie hats from Beechfield® are crafted from 100% organically-sourced Control Union Certified cotton, making it easy to get your sustainable message across.
Note: If you would like to order two designs you would need to treat this as a separate order.
100% ORGANIC FAIRTRADE COTTON
100% Organic Cotton 89g
One size fits all adults
Tear Away label for ease of rebranding.
Control Union certified cotton.
Double layer knit.
Lightweight breathable fabric.
Cuffed design for optimal decoration.
Wipe clean only

Embroidery Guidelines
Please view our complete embroidery guidelines here (opens in new tab for you to download)
EMBROIDERY GUIDE
Embroidery Technique Used
Flat embroidery is a technique where stitches are embroidered flat on the shirt
Minimum thickness for shapes: 0.05″ (1.3 mm)
We use satin stitch for shapes between 0.05″ (1.3 mm) and 0.5″ (12.5 mm)
We use tatami stitch for shapes thicker than 0.5″ (12.5 mm)
Minimum height for lowercase letters: 0.25″ (6.4 mm)
Minimum height for uppercase letters: 0.3″ (7.6 mm)
Any text smaller than 0.25″ (6.4 mm) in height will be a run stitch
Beanie Hat Embroidery Position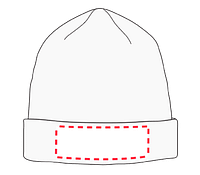 Must-follow guidelines
Design true-to-size graphics The graphics you upload must be true to their size on the end product.
Use solid shapes and colours only Don't include photographic images, gradients, fade or blend effects. Elements like these cannot be embroidered.
Use transparent backgrounds Graphics should include transparent backgrounds. Elements outside the main design will be picked up and result in unwanted embroidery stitches on the end product.
Outline your fonts All fonts should be converted to outlines unless your graphic is in PNG format. That way you don't have to send us the font files.
Submit vector files in EPS or PDF format We highly recommend submitting your embroidery graphics as vector files (EPS or PDF). Raster graphics (PNG) can be used as well if the resolution of the graphic is at least 300 DPI.
Stay within the maximum stitch count If your graphic covers a very large part of the embroidery area, it may exceed the maximum limit of 15,000 stitches. In such a case, your order will be put on hold.
Remove embroidery file template guidelines If you use our downloadable templates, delete the guide layers before saving your files. If you don't delete them, they'll be embroidered.
Delivery Information
We offer a standard flat rate Postage & Packaging fee on all bespoke printed Beanie Hats which means you won't pay extra for bulk wholesale order deliveries.
UK DELIVERY FEE: £25 plus VAT charged as a flat rate for all clothing accessory orders.
WORLDWIDE DELIVERY FEE:
£70 flat rate (NO VAT).
Bespoke Beanies are custom made on-demand only after you have placed an order online or paid by BACS transfer. Delivery times may vary depending on our work-load & the time of year as indicated below.
Note: If you need us to meet a tight deadline please email us prior to placing your order to make sure we can accommodate.
Standard lead times for UK deliveries are as follows:
Wholesale Beanie Hats can take between 15 – 20 days to make depending on the quantity ordered. *Delivered Royal Mail.
EU & International delivery
Delivery times vary from country to country, however as a guide, you can typically add an extra 3 – 5 working days to the delivery days stated above to calculate the shipping time frame. You will receive an email with a Tracking Number once your order has been dispatched.
Cautionary NOTE – Shipments outside of the UK may experience some delays due to COVID restrictions and customs clearance, which are beyond our control.